Everything You Need to Know About Flowfresh
19 Feb 2021
Flowfresh has been a staple of the food and beverage market for a long time, with many leading brands trusting it to provide the hygienic properties their sites require.
But what is it about this flooring solution that makes it so well suited for the world's most demanding food production facilities? In this article, we've taken an in-depth look at Flowfresh to help you understand exactly what this system is and how it works.
What is Flowfresh?
Flowfresh is a polyurethane concrete flooring system that's made by combining cement and PU technologies, producing a strong and seamless flooring system.
The formulation of a typical 4-6mm system, such as Flowfresh MF, means that when installed at an ambient temperature of 20˚C it will take approximately 24 hours until it can be lightly trafficked and will achieve full chemical cure in around a week.
As a material, it can be laid in a variety of thicknesses, combined with different aggregates and pigmented to specific colours. This versatility means that the Flowfresh range is very broad and includes systems tailored to meet a number of different requirements.
Antimicrobial additives
Every Flowfresh floor includes the antimicrobial agent Polygiene®, which consists of a thermosetting amino compound locked into the floor's resin matrix. An all-natural solution, Polygiene® continuously emits silver ions that penetrate a bacteria cell's membrane, causing irreparable damage. A Flowfresh floor, when combined with a regular cleaning regime, reduces the bacterial population on the floor by up to 99.9%; this includes bacteria such as E. coli, Staphylococcus aureus, salmonella typhi, campylobacter and MRSA.
As the additive is homogeneously distributed throughout the polyurethane concrete it cannot wear away or deteriorate, unlike synthetic antimicrobial additives or surface treatments. Even if the floor is chipped, any contaminants within the gap are still targeted by the Polygiene®.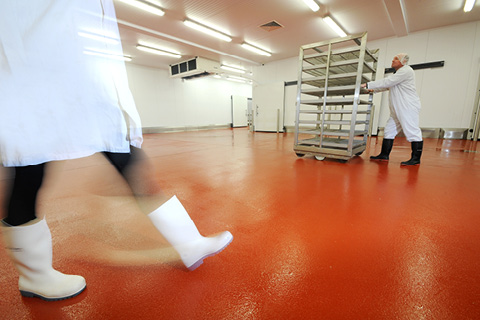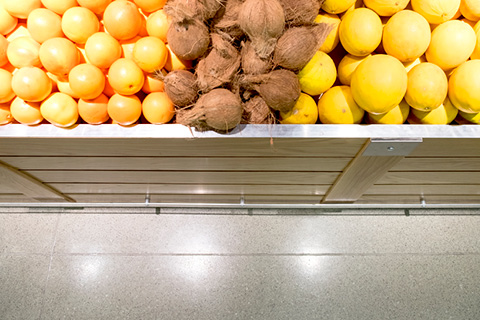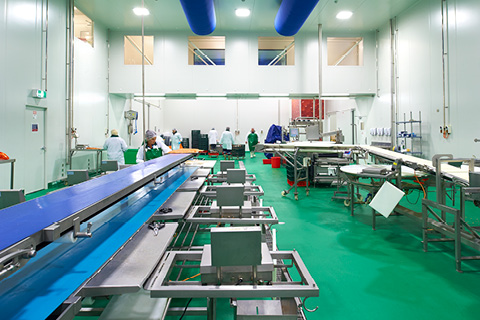 The antimicrobial effectiveness of Flowfresh has been proven to meet the ISO 22196 and JIS 222801 standards for measuring a surface's antimicrobial effectiveness. The primary ISO test involves the inoculation of a population of microorganisms onto sets of antimicrobial coated materials. This test provides the 'value of antimicrobial activity', by showing the difference in the logarithmic value of viable cell counts between the treated and untreated floor. A secondary test involves also washing the floor samples to simulate the regular cleaning that food facilities undergo. After the washing, the microbial population is then checked again.
When Flowfresh was put through this testing, it showed that over a 24-hour period the bacterial population on a Flowfresh floor is virtually eradicated. In comparison, on a standard polyurethane concrete floor the population remained largely the same and on a polypropylene floor the number of bacteria increased.
Seamlessness and cleanability
The ability to be laid in one continuous, seamless section helps the onsite cleaning regime work quickly and easily, as there are no joints or grout lines in their way. As it's trowelled in place, it's easy to take Flowfresh right up to stainless-steel drainage and it can even be laid to a fall, to further ensure that liquids flow out the production areas instead of pooling unhygienically.
Coving can also be made out of Flowfresh so that any potential gaps where the floor meets the wall, supporting columns or equipment bolted to the ground can be covered. Making coving out of Flowfresh means that this potentially vulnerable part of the floor is as robust and hygienic as everywhere else.
The bright colours Flowfresh is available in means that different zones can be marked out using the floor. For example, areas handling cooked meats can have green floors while areas with raw meat can have red floors, making it obvious for anyone walking between the two that they are moving into a new area.
Durability
The thickness of a floor determines how it will deal with heavy impacts. A 4-9mm thick Flowfresh finish will have a good chance of dissipating any impact and should a chip occur it's unlikely to progress down to the substrate. If the substrate is exposed then the underlying concrete could be compromised if contaminants get into it. Similarly, the compressive strength of Flowfresh means that it can withstand prolonged exposure to heavy traffic loadings.
Most food and beverage facilities will utilise corrosive chemicals which will break down the polymer structure of resin floors. This is especially true of the cleaning regime, which will use highly aggressive chemicals to clean and disinfect all surfaces and equipment. Polyurethane concrete has a high cross-linked density which means that it is highly effective at resisting chemicals such as these without cracking or de-bonding.
One of the other main challenges the floor will need to cope with is thermal shock. Polyurethane concrete is not only able to tolerate intense heat, in some instances up to 120˚C, but it has a similar coefficient of expansion to concrete so it will move at the same rate as the underlying substrate, avoiding cracks in the finish.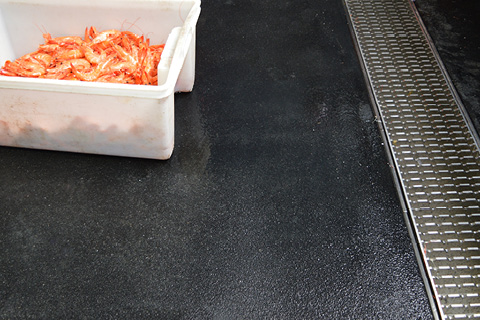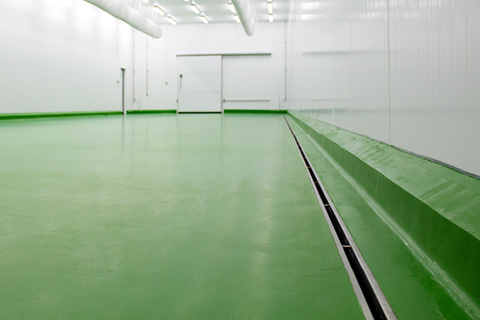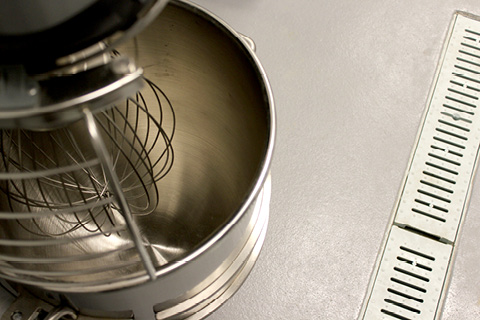 The robust nature of Flowfresh is illustrated by the lifecycle cost considerations (LCC) of a floor formula, which is: LCC = C + M + R. This equation states that the capital cost (C) of a project plus the annual sum of all maintenance (M) and the replacement (R) cost of a failed floor is the true price of a flooring system. When taking a 15-year view of flooring, this equation shows that the longevity of polyurethane concrete makes it one of the cheapest materials available.
HACCP
The Hazard Analysis and Critical Control Point (HACCP) food safety management system is a preventive risk assessment tool that helps assess and deal with food safety hazards. It's importance to the food industry is underlined by the fact that Article 5 (1) of the European Parliament's Regulation 852/2004 states that "food business operators put in place, implement and maintain a permanent procedure or procedures based on the HACCP principles".
Most food regulation around the world includes similar wording to this, which means that HACCP compliance is vital for global food producers.
The organisation HACCP International evaluates products for their ability to maintain HACCP compliance despite exposure to industrial conditions and has certified Flowfresh for its ability to provide a HACCP compliant floor finish.
Slip resistance
Slips and trips are one of the most dangerous risks within a busy production facility. Flowfresh is able to provide a coefficient of friction (which is the force necessary to hold two materials together, such as a foot and the floor, and the maximum force necessary to resist sliding) which minimises the risk of slipping on a wet surface.
This anti-slip property has been verified by the DIN 51130 ramp test, which is a method recognised across Europe for assessing slip resistance. The test involves a person wearing safety boots with motor oil on the soles walking across a surface also coated in motor oil which is steadily inclined until the person slips. The angle at which the slip occurred determines the slip resistance rating, with a greater angle equalling a higher rating. To ensure that exactly the right amount of traction is provided underfoot, the Flowfresh range includes systems that cover a variety of slip resistance ratings, including the highest R13 grade.
Slip resistance needs to be balanced against cleanability, as the more textured the surface the harder it is to clean. The quantity and size of anti-slip aggregates in a Flowfresh floor can be tailored to suit specific demands and achieve the optimum cleaning to slip resistance ratio.
Find out more
If you'd like to learn more about Flowfresh and the benefits it can bring to a food and beverage facility, then click here to talk to our expert team.
ENDS
Enjoy this post? Click below to share it with your network:
Press Contact
For more information, please contact the UK Marketing department on 01942 251400 or get in touch.